Read a list of former Vermont State Auditors.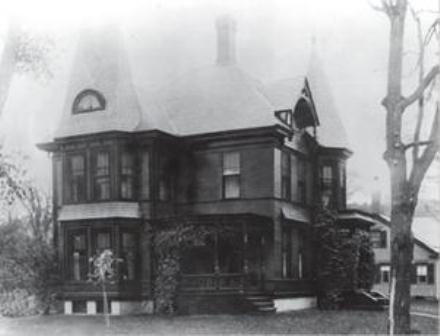 132 State Street - Like many of the lots on State Street in Montpelier, Vermont, during the mid-nineteenth century, this parcel of land belonged to a member of the Taplin family. The Taplins were an old Montpelier clan who, much like the Reeds, were heavily involved in real estate speculation over several generations. The deed cards which record their many transactions are several inches thick, and the tangled web of their wheeling-and-dealing is a daunting one to unravel.
George E. Taplin was a merchant with a prime downtown location at 2 State Street, on the southwest corner of State and Main streets. George was born in Montpelier in 1848, and as a young man worked for merchant J.P. Dewey, in what was referred to as the "old depot store" located on the southwest corner of State and Taylor Streets, on land where the 1870 Vermont Mutual building stands today. In 1873, Taplin formed a partnership with H.E. Crosby ("Crosby & Taplin"). Crosby retired soon after, to be replaced by I.R. Moulton ("Moulton & Crosby"). An 1889 advertisement for this establishment boasted that it specialized in "dry and fancy goods", and that the firm offered one of the largest selections of such goods in New England. Today Taplin Street in Montpelier is named after these early settlers.
George Taplin died in 1898 at the age of 53, and his circa 1890 Queen Anne style home was sold to Robert M. Whelan the next year. Robert Whelan was an engineer for the Central Vermont Railway for many years, whose tracks passed right behind his house. He found the location a convenient one, as he could stroll to work at the nearby depot in two minutes time. Robert Whalen died in 1935, and the estate of Ellen B. Whalen sold the property to National Life in 1937. The property would soon become a rooming house and remain so for the next thirty years. The state declined to purchase the property for $37,000 from National Life in 1960, at which time it was purchased by former Municipal Judge Joseph W. Foti. After an oil company expressed interest in locating a service station on this commercially-zoned site in 1963, the state eventually purchased the property for a much higher price in 1965 from Mr. Foti.
This building presently serves as the Office of the State Auditor of Accounts.