Vermont received over $4.9 billion in federal grants through the following federal acts:
CARES Act (March 2020)
Payroll Protection and Health Care Enhancement Act (April 2020)
Families First Coronavirus Response Act (March 2020)
Coronavirus Preparedness and Response Supplemental Appropriations Act (March 2020)
American Rescue Plan (March 2021)
This includes $1.25 billion from the Coronavirus Relief Fund (CRF), which the state legislature is allocating in an effort to help Vermont businesses and residents. The Agency of Administration created two CRF Transparency Dashboards to show how CRF money was authorized and expended.
Other funds were distributed through federal agencies directly to Vermont. Some funds were allocated to State agencies/departments and some went to local municipalities or non-profits. The graphic below shows the amounts allocated to Vermont directly by federal agencies along with some examples of the specific programs being funded.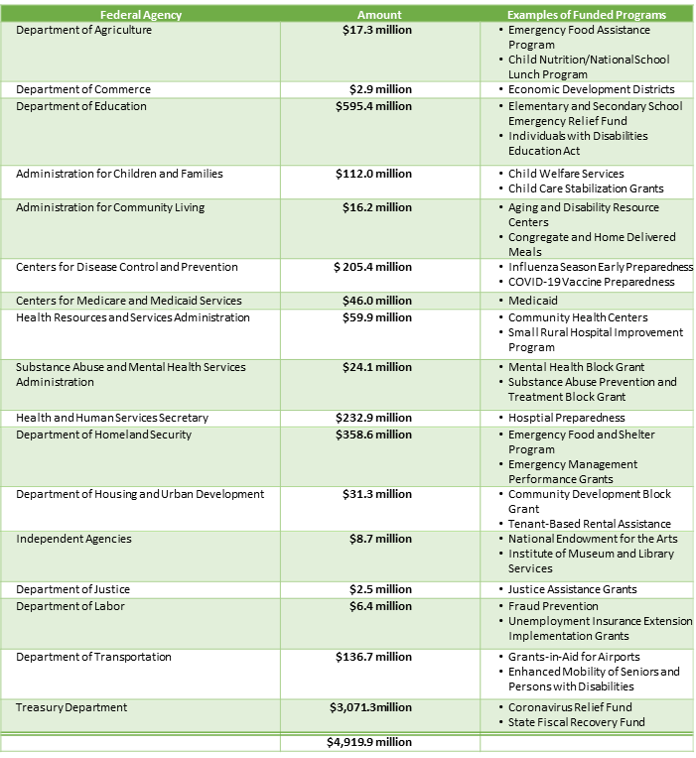 Source:Federal Funds Information for States https://ffis.org/COVID-19